I purchased this Sonia Kashuk Eye shadow Quad in The Metallics 08 from Target, which is the only retailer you can purchase Sonia Kashuk.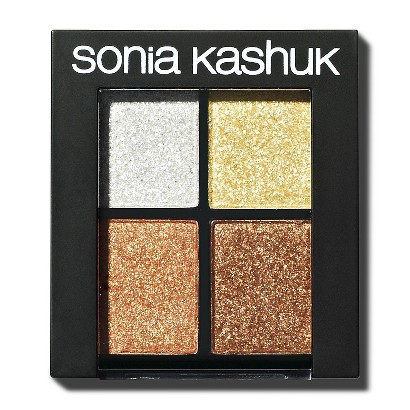 I VERY rarely return products, does that mean I always purchase products that are absolute winners….no.  Most of the time when I buy something that I do not end up keep I think well this product just isn't right for me (color, skin type, etc.)  or I think that I have something equal or better that I don't want to keep it to just for the sake of clutter.  Most of those items I keep in a bag until here are quite a few and then I sanitize them and let me friends pick away, most of them are not as makeup addicted as I so they love picking though my extras.  I feel that return these items is not really justified because they are not bad, and I know makeup is not something that anyone can resell, so it feels a little unfair to me (I know some won't agree) to return something to a retailer just because it didn't live up to my very high standards when there is not anything actually wrong with the product.
This eyeshadow quad however went back, I'm sorry Target but this was complete crap and since i couldn't swatch it in the store I had no idea.  At $13.69  I was not willing to just throw my money away and I was not going to give this to any of my friends because it was completely useless.  I would enter swatch photos but it literally didn't swatch,  just like like a very slight glimmer of some pathetic glitter which didn't show up in photos.
I do not typically like to bash products but I hope this post saves one person from the hassle of purchasing and returning.